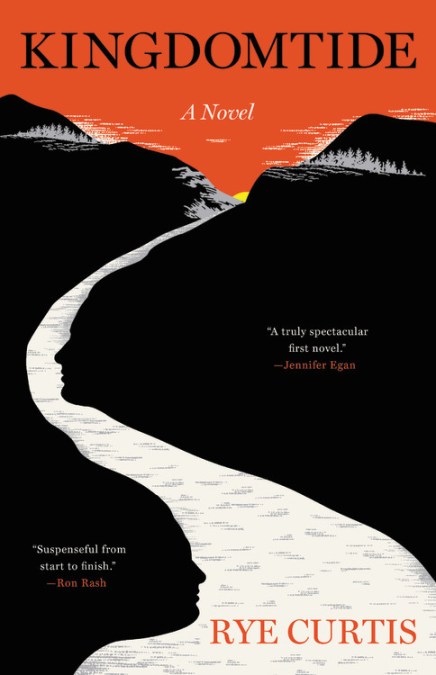 Kingdomtide
The lives of two women—the sole survivor of an airplane crash and the troubled park ranger leading the rescue mission—collide in this "gripping," (Vogue) "heart-pounding," (NPR) and "highly original" (LA Times) novel of tough-minded resilience.

A New York Times New and Noteworthy Book
An O, The Oprah Magazine Best Book of January
The sole survivor of a plane crash, seventy-two-year-old Cloris Waldrip is lost and alone in the unforgiving wilderness of Montana's rugged Bitterroot Range, exposed to the elements with no tools beyond her wits and ingenuity. Intertwined with her story is Debra Lewis, a park ranger struggling with addiction and a recent divorce who is galvanized by her new mission to find and rescue Cloris.
As Cloris wanders mountain forests and valleys, subsisting on whatever she can scavenge, her hold on life ever more precarious, Ranger Lewis and her motley group of oddball rescuers follow the trail of clues she's left behind. Days stretch into weeks, and hope begins to fade. But with nearly everyone else giving up, Ranger Lewis stays true until the end.
Dramatic and morally complex, Kingdomtide is a story of the decency and surprising resilience of ordinary people faced with extraordinary circumstances. In powerful, exquisite prose, debut novelist Rye Curtis delivers an inspiring account of two unforgettable characters whose heroism reminds us that survival is only the beginning.
Read More
Praise
"I read a lot of very good fiction, but this novel--so startling and thrilling, so packed with such wonderful characters--is the best novel I've read in a long time."
—
Roddy Doyle, Booker Prize-winning author of Paddy Clarke Ha Ha Ha and A Star Called Henry
"Kingdomtide is much more than a harrowing tale of survival in the Bitterroot Mountains of Montana. A plane crash and rescue operation in this debut are but a pretext for a rich and stunning examination of the wayward. Rye Curtis has written a splendid, funny, and insightful book, and created an exuberant affirmation of the soul--lost, found, or (like most of us) in some kind of transit."—Smith Henderson, author of Fourth of July Creek
"Kingdomtide is an extraordinary debut novel that feels like the result of a fortuitous lab spill involving, in one rack of tubes, the essential literary fluids of Denis Johnson, Annie Proulx, and Flannery O'Connor, and, in the other, the sweet morality of Leif Enger, Kent Haruf, and Charles Portis. (When you think of the indelible Cloris Waldrip of these pages, picture True Grit's Mattie Ross at age seventy-two, still kicking ass and taking names.) But although a reader can at times sense various veins coming down from various mountains, they are always in service of the one big heart that becomes Kingdomtide, a book that is wise, touching, and most of all original."—Rick Bass, author national bestseller and Story Prize winner of For a Little While
"Stop reading this blurb right now and read the first paragraph of Kingdomtide. If you can stop after that, you'll know you're a robot. A defective robot. Kingdomtide will bring you to tears of laughter, tears of joy, and...are there tears of insight? Rye Curtis is a fireball of talent."—James Hannaham, PEN/Faulkner Award winner for Delicious Foods
"Gloriously unexpected...A deep and surprising debut...Cloris' survival narration is exciting, with devastating vistas and a mysterious savior in the form of a possible fugitive, but her musings on her past life and life in general are some of the book's very best moments."
—
Annie Bostrom, Booklist
"A darkly humorous debut...A captivating survival story...By turns thrilling, poignant, and hilarious, Kingdomtide is carried along by Cloris Waldrip's irresistible first-person narration. She is so matter-of-fact, wry, and indomitable it's not hard to imagine she's a granddaughter of True Grit's Mattie Ross...This is a promising first novel."—Kirkus Reviews
"An intense debut...Seventy-two-year-old Cloris Waldrip's grueling attempt to survive and escape is depicted with vivid urgency...Her gritty, nightmarish story, as well as her strong voice and personality, will make her a reader favorite...This story of survival will keep readers quickly turning the pages."
—
Publisher's Weekly
Read More
Read Less